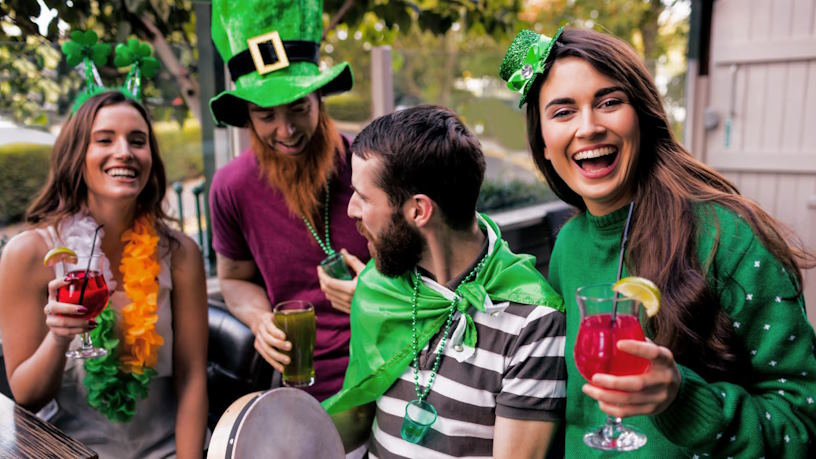 Celebrate St. Patrick's Day with an Irish Pub Theme
St. Patrick's Day, a day dedicated to celebrating Irish culture, is known for its vibrant parades, green attire, and lively festivities. While the holiday traditionally pays homage to St. Patrick, the patron saint of Ireland, it has evolved into a global celebration of Irish heritage, marked by joyous gatherings and merriment. This year, instead of simply donning green clothes and enjoying a pint of Guinness, consider taking your St. Patrick's Day celebration to the next level by embracing the spirit of an Irish pub.
Setting the Stage: Irish Pub Decor
Creating the Right Ambiance
When it comes to celebrating St. Patrick's Day with an Irish Pub theme, ambiance is key. The right decor can transport you and your guests to the heart of Ireland, making your celebration feel authentic and festive. Whether you're hosting a house party or a larger gathering, setting the stage with the right ambiance will ensure that your guests have a memorable experience.
Tips for Decorating with an Irish Pub Theme
Colors: Start with a color palette inspired by Ireland. Deep greens, rustic browns, and rich reds are perfect for creating a warm and inviting atmosphere.
Pub Signage: Hang up some Irish pub signs or create your own. You can even personalize them with your own "pub" name.
Wooden Furniture: If possible, incorporate wooden furniture or accents, which are reminiscent of traditional Irish pubs. It adds warmth and authenticity to your space.
Irish Flags and Symbols: Display Irish flags or symbols like shamrocks, Celtic knots, and leprechauns to reinforce the theme.
Candles and Low Lighting: Opt for ambient lighting with candles or low-wattage bulbs to create a cozy atmosphere.
Irish Memorabilia: Decorate with Irish memorabilia, such as vintage Guinness posters, whiskey bottles, or Irish folk art.
Live Greenery: Add some greenery with potted plants or fresh clovers to symbolize the lush landscapes of Ireland.

Dress the Part: Irish Attire
Traditional Irish Clothing and Accessories
To fully embrace the Irish Pub theme for your St. Patrick's Day celebration, donning traditional Irish attire can be a fun and immersive way to get into the spirit. Traditional Irish clothing and accessories have a rich history and cultural significance that's worth exploring.
For men, think about the classic Irish flat cap, known as the "Paddy cap" or the "newsboy cap." Pair this with a tweed jacket or waistcoat for a genuine Irish look. Women can opt for elegant Aran sweaters, which are famous for their intricate cable-knit patterns, or a stylish shawl. Both men and women can complete their attire with brogues or Irish step dance shoes to truly channel the Irish spirit.
Suggestions for Getting into the Spirit
If you're not looking to go all out with traditional Irish clothing, there are plenty of other ways to dress for the occasion. Embrace the spirit of St. Patrick's Day with these suggestions:
Shades of Green: Incorporate green into your outfit, as it's the color most commonly associated with Ireland and St. Patrick's Day.
Accessorize: Don't forget accessories like green scarves, hats, or even Irish-themed jewelry to add a touch of Irish flair.
Irish Sports Jerseys: If you're a sports enthusiast, consider wearing an Irish rugby or GAA jersey.
Novelty T-Shirts: Fun and cheeky St. Patrick's Day-themed t-shirts with Irish sayings or shamrocks are always popular.
Costumes: For the more adventurous, you can dress up as a leprechaun, a Celtic princess, or any other character inspired by Irish folklore.

Music and Entertainment
The Role of Music in Irish Pub Culture
Music is the beating heart of Irish pub culture. Walk into any traditional Irish pub, and you're likely to be greeted by the lively sounds of fiddles, accordions, and tin whistles. Live music sessions are an integral part of the Irish pub experience, fostering a sense of community and camaraderie. The melodies of Irish folk songs, jigs, and reels fill the air, and the pubgoers often can't resist tapping their feet or clapping along. The music weaves tales of love, heartbreak, and history, creating an atmosphere that's both captivating and soul-stirring.
Creating the Perfect Irish Music Playlist
To infuse your St. Patrick's Day celebration with the authentic sounds of Ireland, curate a playlist of Irish music. Include a mix of traditional and contemporary tracks to cater to diverse tastes. Some must-have artists and bands include The Dubliners, The Chieftains, The Pogues, and Enya. For a more contemporary feel, artists like Hozier, Glen Hansard, and Sinead O'Connor offer a modern twist on Irish music. Don't forget to add some Irish rock classics from bands like U2 and Thin Lizzy to keep the energy high.
Irish Dance and Other Entertainment
To take your celebration to the next level, consider organizing Irish dance performances or lessons. Irish step dancing is a mesmerizing art form, and a professional dance group can wow your guests with their intricate footwork. If you're feeling adventurous, why not try some Irish dancing yourself? There are plenty of online tutorials and even local dance schools that offer lessons. Alternatively, set up a pub quiz with Irish-themed questions or host a traditional Irish storytelling session, giving your guests an opportunity to connect with the rich cultural heritage of Ireland. These entertainment options will surely make your celebration unforgettable.